OUR SERVICES
Spa Services, Packages and Treatments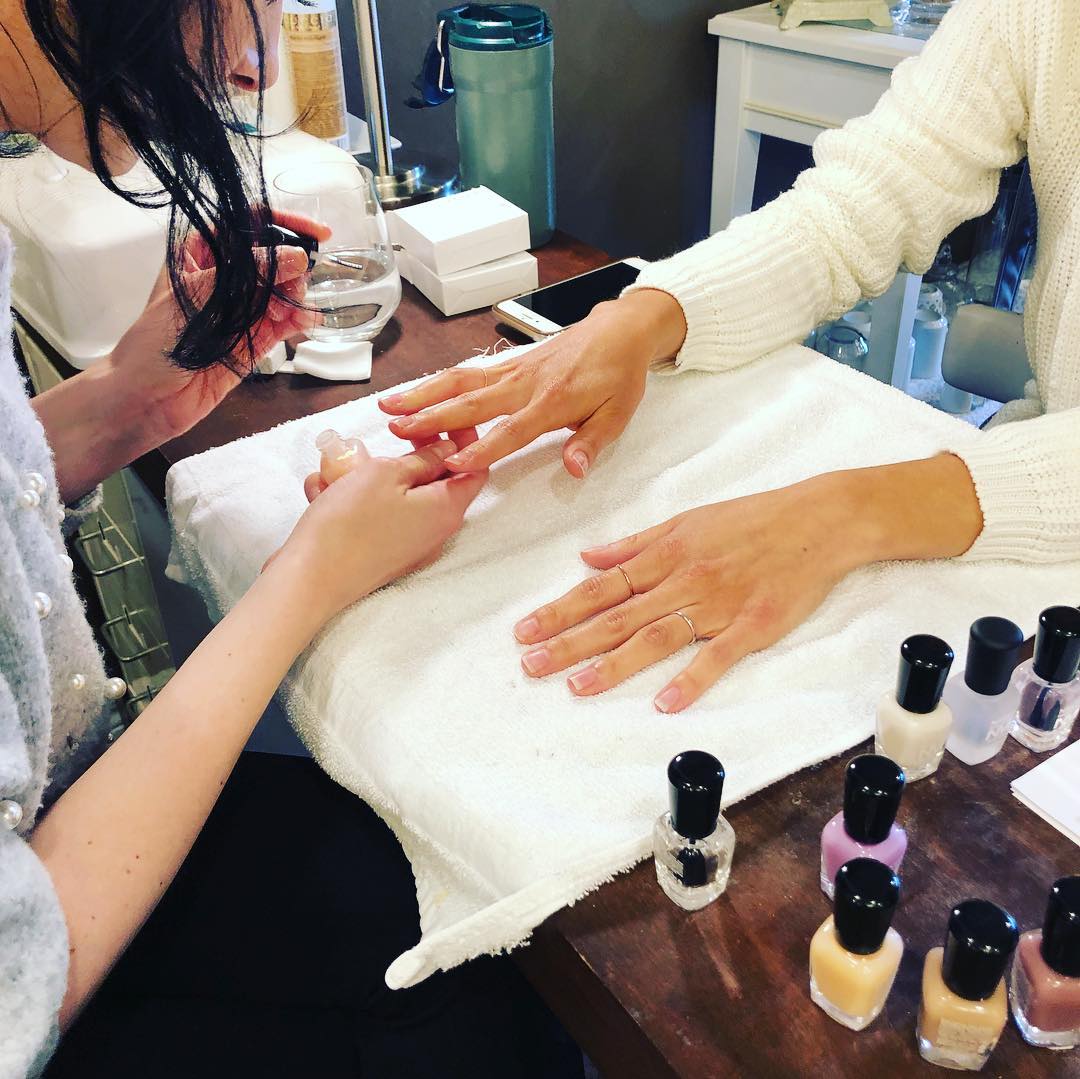 Our Services
Indulge and forget your cares for a few minutes, or even hours with one of the many specialized services we offer. Services include a variety of facials, body treatments, relaxing massage, pedicure, manicure, waxing, microblading, eyelash extensions and reiki.
Bringing a little bit of Spatoepia home with you is an option too! A wide range of at home care products are available for purchase.
We'd love to welcome your special events such as baby showers, bridal parties, birthdays, anniversaries, whatever the special occasion may be!
A special thank you to our clients for the continued support over the years.
We look forward to your next Spatoepia experience!

Facial Treatments
Spatoepia Facial – 1hr./$110
Includes deep cleaning, steam, exfoliation mask, extractions, toning, massage and moisturizing
Medicated Clearing Facial – 1hr./$115
This treatment is the ultimate in acne management. It targets current blemishes while helping to prevent future breakout activity.
Multi-Vitamin Power Facial – 1hr./$125
Ideal for skin affected by premature aging. Delivers potent skin repairing vitamins to noticeably improve skin elasticity, tone and texture.
Ion Active Power Treatment – 1hr./$130
Ion Active Power treatment. A customizable treatment formulated to address skin conditions. A Result driven-facial with thermal activity to optimize product penetration for a dramatic improvement. Skins luminosity, smoothness and hydration levels at its best!
Revitalizing Eye Rescue – 20min/$45
This treatment is designed to firm and tone the eye area, help diminish fine lines, reduce puffiness and soothes irritated tired eyes. It can be performed alone or incorporated to any facial treatment.
Microdermabrasion – 45min/$140
A non-chemical, non-invasive procedure that removes the outermost layer of dry, dead skin cells and reveal younger, healthier-looking skin. This treatment can also be added to any facial!
add-on to facial $100.00
Add On-Casmara Mask – $30

Relaxation Massage
Using a Swedish massage technique specifically designed to relax, increase oxygen flow to the blood and release toxins from the muscles. A perfect treatment to calm and soothe the body and mind.
1hr. Massage – $95
45min Massage – $75
30min Massage – $60
RMT Massage (Registered Massage Therapy)
1hr. – $120
90min – $160
Hot Stone Massage – 1hr./$95
A specialty massage that uses smooth heated stones. This unique indulgence helps you to relax, sooth and melt away those tired muscles.

Body Treatments
Spa Ritual Body Polish – 45min/$95
Gently scrub away stress and impurities with Certified Organic Sugar-Crystals. Formulated with Certified Organic Safflower Seed Oil to deeply hydrate and condition the full body, leaving a youthful and radiant glow.

Reiki / Huna Healing
Reiki / Huna Healing
Reiki + Huna healing are for those ready to release old energy, patterns, and/or beliefs that no longer serve them. They may be fully aware of this, or just know on a subconscious level that whatever they've been doing has not been working. A Reiki / Huna session allows for healing energy to release what is no longer serving them to help achieve a balance. Since Reiki helps us clear energy blocks in our chakras and Huna released energy stored in our organs, it is no surprise that a client feels much more grounded, calm and relaxed after a session. Some even take a nap during the treatment! Whether awake or napping, Huna and Reiki combined during these sessions works for the client's highest good. Each session is unique to each person's needs and different crystals are used throughout the Reiki / Huna healing sessions depending on what support is required. By appointment only.

Foot Treatments
Classic Pedicure – 1hr./$52
Includes foot soak, trimming and filing of the nails, callus abrasion, cuticle work, massage, and polish.
SpaToepia Pedicure – 1hr.15min/$68
Includes scrub, paraffin wax, and all the benefits of a classic pedicure.
Hot Stone Pedicure – 1hr.15min/$75
Indulge your tired feet with a therapeutic healing hotstone massage, and all the benefits of a classic pedicure.
Ultimate Pedicure 1hr.30min/$95
Starting with all the benefits of a classic pedicure, followed by a sea salt scrub, a cooling mask and finishing off with a warm therapeutic hot stone foot & leg massage. Leaving your feet feeling smooth and happy!
Foot Fix – 30min/$40
Involves the same steps as a pedicure without the callus abrasion and foot massage. Good for clients who have pedicures regularly.
All hand and foot treatments will include your own file & buffer

Hand Treatments
Classic Manicure – 45min/$32
Includes trimming, filing of the nails, cuticle work, massage and polish.
SpaToepia Manicure – 1hr./$44
Includes scrub and paraffin wax and all the benefits of a classic manicure.
SpaRitual Manicure 1hr./$47
SpaRitual offers a sophisticated manicure to nourish cuticles, build strong nails and establish a flawless environment for colour. Indulge your senses and nourish those tired hands. 100% Vegan.

Polish
Polish Change – $20
Shellac – $20
Shellac Add On – $15
Shellac Soak Off – $10
Add French to any hand or foot treatment – $5
Add nail art for an additional charge.

Nail Extensions
All nail services are done by nail files only (no drills)
Fiber Gel/Full Set – $75
Fiber Gel/Fill – $45

Waxing
Eyebrows – $20
Upperlip – $12
Chin – $12
Sideburns – $12
Bikini – $30+
Brazilian Wax – $55+
Half Leg – $35+
Half Leg & Bikini – $55+
Full Leg – $65+
Full Leg & Bikini – $75+
Underarms – $20+
Half Arm – $25+
Full Arm – $40+
Stomach – $25+
JUST FOR HIM
Back – $50+
Chest – $40+
Abs – $20+

Tinting
Taking light eyelashes and eyebrows to darker shades to create a dramatic result!
Eyelash – $25
Eyebrow – $20
Eyelash & Eyebrow – $40

Microblading
A semi-permanent tattoo technique that fills brows out or reshapes them by drawing on tiny lines that look like individual hairs. Amazing results!
Contact us for pricing
Lash Extensions
Enhance the length, curl, fullness and thickness of natural lashes. One lash at a time. Get the lashes you've always dreamed of!
Contact us for pricing
Lash Lift
Say goodbye to your eyelash curler! A low maintenance lash perm that lifts and enhances natural lashes. *add a lash tint for a striking effect*
Contact us for pricing
Brow Lamination
Creates the look of a fuller, fluffy brows by "perming" redirecting your eyebrow hair growth upwards.
Includes eyebrow wax, Eyebrow Tint & Lamination. – $120
SPA PACKAGES
Classic Mini Day | 3hrs. – $184.30
SpaToepia facial, Classic pedicure, Classic manicure.
Toetal Spa Day | 4 1/2hrs. – $301.15
Sparitual body polish, SpaToepia facial, SpaToepia Pedicure, SpaToepia Manicure
SpaToepia Day | 5 1/2hrs. – $391.40
60min massage, Sparitual body polish, SpaToepia facial, SpaToepia pedicure, SpaToepia manicure.
Ultimate SpaToepia Day | 5 1/2hrs. – $434.15
60min massage, Multivitamin power facial, Sparitual body polish, Ultimate pedicure, Sparitual manicure.
Lunch
Add on lunch to any spa package for only $15
Whether you're looking for massages, facials, waxing or more, we have the service to keep you feeling and looking your best!
ADDRESS
226 Queen Street South
Streetsville, Mississauga
Ontario, L5M 1L5
SPA HOURS
Mon – Closed
Tues – 9am to 6pm
Wed – 9am to 6pm
Thurs – 10am to 7pm
Fri – 10am to 8pm
Sat – 9am to 5pm
Sun – Closed